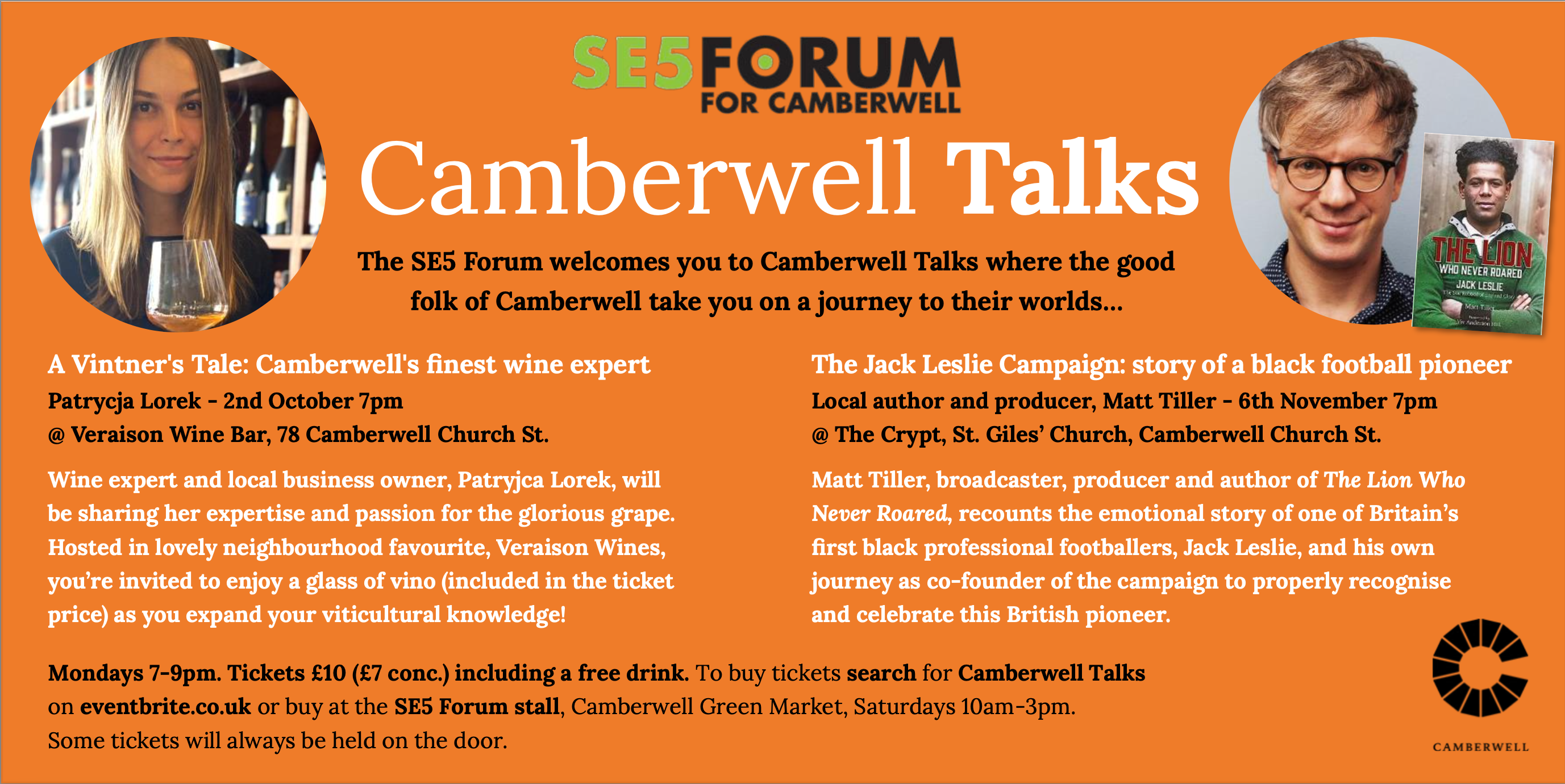 Camberwell Talks
Our new season of Camberwell Talks kicks off with two fascinating talks by interesting locals:
A Vintner's Tale: a walk through the vines with Camberwell wine expert Patrycja Lorek, Veraison Wines on Monday 2nd October, 7pm@ Veraison Wine Bar, 78 Camberwell Church Street, London SE5 8QZ
Wine expert and local business owner, Patryjca Lorek, will be sharing her expertise and passion for the glorious grape. Hosted in lovely neighbourhood favourite Veraison Wines, you're invited to enjoy a glass of vino (included in the ticket price) as you expand your viticultural knowledge!
The Jack Leslie Campaign: Story of a black football pioneer by Camberwell author & producer Matt Tiller – Monday 6th November, 7pm @ The Crypt, St. Giles' Church, Camberwell Church St, London SE5 8RB.
Matt Tiller, local broadcaster, producer and author on his new book The Lion Who Never Roared, which tells the emotional story of one of Britain's first black professional footballers, Jack Leslie. Matt will also talk about his own journey as co-founder of the Jack Leslie Campaign to properly recognise and celebrate this British football pioneer.
SE5 Forum AGM – Camberwell 2030 – Save the date!
Wed 18 October, 6.30-8.15pm, United Reformed Church
Come and have your say about the vision for Camberwell 2030. Please join our next AGM will take place at United Reformed Church, Love Walk, SE5 (and also on Zoom).

More details, an invite to join SE5 Forum as a new member, and Zoom link will be posted here soon.
Everyone is welcome. Come and join us to talk about Camberwell 2030, and put forward your priorities about our local area. We are delighted that the CEO of Southwark Council, Althea Loderick, will be the key speaker for our Q&A.
This year, we are focusing on partnerships and will showcase what SE5 Forum has achieved by reaching out and working with a diversity of local volunteers, voluntary organisations, health and wellbeing organisations, food banks on community events, campaigns, and more.
Refreshments will, of course, be provided. See you there.
We are also looking to recruit new members of our team. Find out more about Camberwell, get involved and make a contribution – and have fun as part of SE5 Forum.
Please email us at admin@se5forum.org.uk with your name and contact details if you'd like to join us.