Our Mission
The SE5 Forum works to improve Camberwell for the benefit of all members of our diverse community. We are a voluntary group of board members working closely with our supporters and the community. SE5 Forum was set up to be the eyes, ears and voice of the community, to see and understand what is happening within the area, to listen to concerns and raise them with the relevant organisations.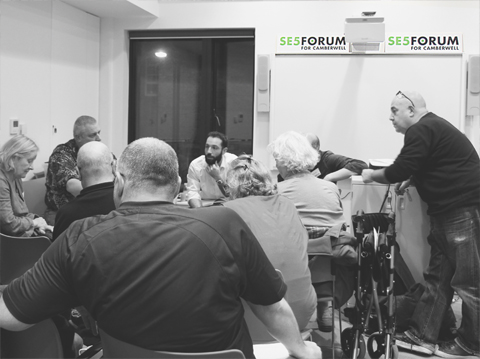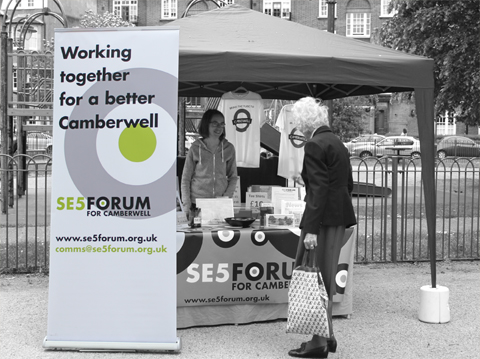 Partnership
The SE5 Forum works with a number of partners in the local community to gather views and deliver improvements. Find out more about our partners here.
New Vision & strategy for Camberwell
The SE5 Forum consulted the views of Camberwell people to find out what people like about Camberwell and what they want to change. We worked on a new Vision for Camberwell to capture and share those views. The Vision set out the areas that people wanted to focus on for the next 3 years. This fed into our Strategy & Action Plan 2018-21 focusing on Business, Transport and Identity. We are now finalising our Strategy for 2021-24 focusing on Business, Transport and Identity and a new Environment theme.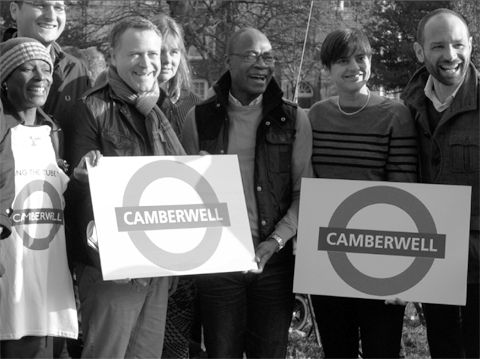 Marie Staunton Secretary

Marie is Secretary of SE5 Forum and also leads on Camberwell identity. She is a key member of the Camberwell Identity group, which is made up of SE5 Forum, Camberwell Arts and Camberwell Society, as well as other volunteer experts. Marie has extensive CEO, board and chairing skills in the voluntary and non-profit sector.

Andy Murray Treasurer

Andy is an accountant and brings his considerable financial skills to the SE5 Forum board as treasurer.

Simon J Taylor

Simon J Taylor is the SE5 Forum Arts lead and is also involved in the business group.
Nigel Brissett

Nigel is a surveyor and has worked on a number of development and regeneration projects in London. He is CEO of Xian Capital and a Director of Black Enterprise Forum Ltd. His passion is to see growth and development in south east London, and he is concerned about issues relating to youth education, poor housing job creation in the area. As a new SE5 Forum board member in 2020, Nigel is looking to identify and explore new ideas surrounding development opportunities, regeneration and job creation.

John Frankland

John has been involved in community safety since 1986 and has chaired the Herne Hill Safer Neighbourhood Panel since 2005. He is also a member of the Coldharbour Panel and the Lambeth SNP Chairs Group. John works with three Lambeth area forums and is a school governor. John is SE5 Forum Deputy Lambeth Rep.
Mastoor Khan

Mastoor is actively involved in the Camberwell Identity group and establishing links with local faith groups.

Shazna Choudhry

Shazna joined in October 2021 and is interested in campaigning for Camberwell to become a safer and greener space, and in what we can do for young children and older adults who have become more vulnerable and isolated due to Covid. 
Anthony Jones

Tony has now lived in Camberwell for the last 20 years and joined SE5 Forum in October 2021. He has set up a new Improving Camberwell Streets sub-committee. Before joining, he worked hard to keep enviro crime low by reporting issues, as well as identifying empty tree pits on the streets and chasing street lighting issues. He thinks collectively we can make Camberwell a much more attractive place for businesses to start up and locate to. 

Amie Konteh

Amie, a new member in October 2021, is a Camberwell resident and chair of the Tenant Residents Association (TRA) of Goschen Estate. Her main profession is working/supporting two frontline key worker services in mental health and heart failure community services. She is involved with local groups in promoting healthy lifestyles. A  keen roller skater, she is part of the Burgess Park Skating community as well as the Burgess Park running club. She joined the SE5 Forum board in October 2021 as she wants to create and encourage an all-inclusive and culturally diverse community group setting. 

Craig Francis

Craig joined in October 2021. A born and bred Camberwellian, he has worked over 5 years on the Camberwell Free Film Festival, and supported the Camberwell Arts Festival, Camberwell Community Choir, and Theatre Peckham. As a creative facilitator, a black man, a roller skater, and mental health first aider, Craig also recently set up a CIC with the hope of filling the creative gaps in Camberwell. He would like to bring back a local roller rink and safe creative space back to the area. 
Zoe Avison

Zoe moved to Camberwell in 2021 and loves its vibrancy and community feeling. She joined SE5 Forum board in order to contribute to Camberwell and help improve it for everyone. She works as a policy analyst a national environmental think tank and therefore has a particular interest in the environment – especially transport, planning and greening. She is particularly interested in cycling and walking, green spaces and sustainability, and also possible uses for meanwhile spaces relating to the circular economy.

Victor Ferreiro

Victor, a new member in October 2021, was brought up in Camberwell and set up the successful Camberwell Free Film Festival. He also secured an asset of community value for The Cambria pub and is passionate about making sure the last original purpose-built cinema theatre left in Southwark, here in SE5, can revert back to a cinema/arts/community hub in the near future. 

Marika Thorogood Admin

Marika works for SE5 Forum as a self-employed admin and communications professional. She joined in 2018 and oversees SE5's admin and communications, including website, enewsletter, social media and is also involved in a wide range of other activities such as publicity, fundraising and event management.