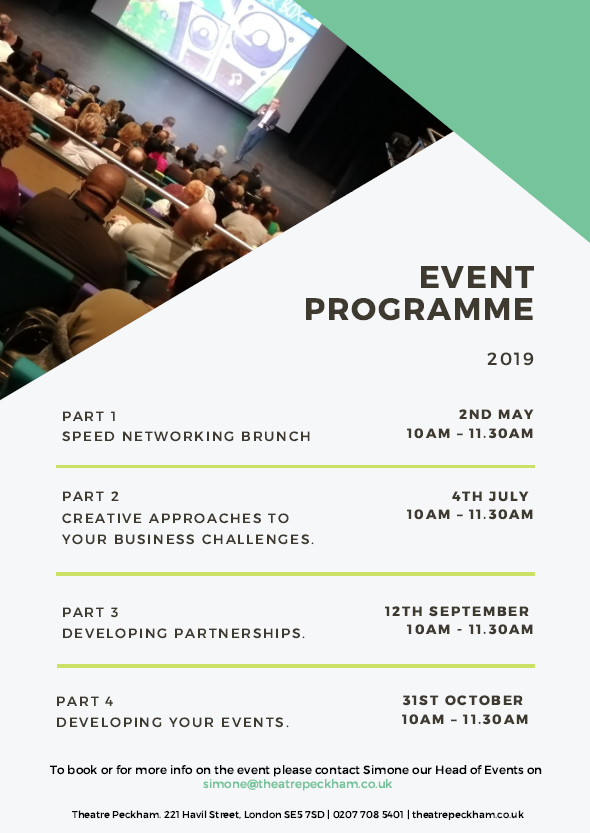 Business Brunch – Speed Networking Event
Date/Time
Date(s) - 12/09/2019
10:00 am - 11:30 am
Location
Theatre Peckham
Categories
Theatre Peckhams' Business Brunch is a 4-part quarterly event, hosted at Theatre Peckham where local and corporate businesses can come together build relationships, develop networks, share best practice and exchange skills in the heart of the community where creativity and innovation thrives.
Theatre Peckham will host you over brunch and facilitate conversations on how we can work together to make our business community more agile, more responsive and more connected.
Becoming a part of our business brunch network will allow you to: 
Access to discounted hire space in the theatre, studios or meeting rooms for your meetings, training sessions or events. (Dependant on availability and demand)
Receive information on events organised by Southwark Council for local business in the area to troubleshoot issues, disseminate info on council led events and initiatives that effect your business.
Access exclusive opportunities to promote your business at Theatre Peckham Performances and Events (we work with over 500 families and young people in the local area)
Develop partnership opportunities with local business and corporate organisations.
Have a free breakfast / brunch once a quarter.
Part 3- Developing Partnerships
12th September 10.00am- 11.30am
Could your organisation use the support of another to develop your reach? Come along to our breakfast brunch and pitch your case for support to organisations that have the capacity, resource or know-how to help get you where you want to be. (Info from Theatre Peckham on how you can work in partnership with us)