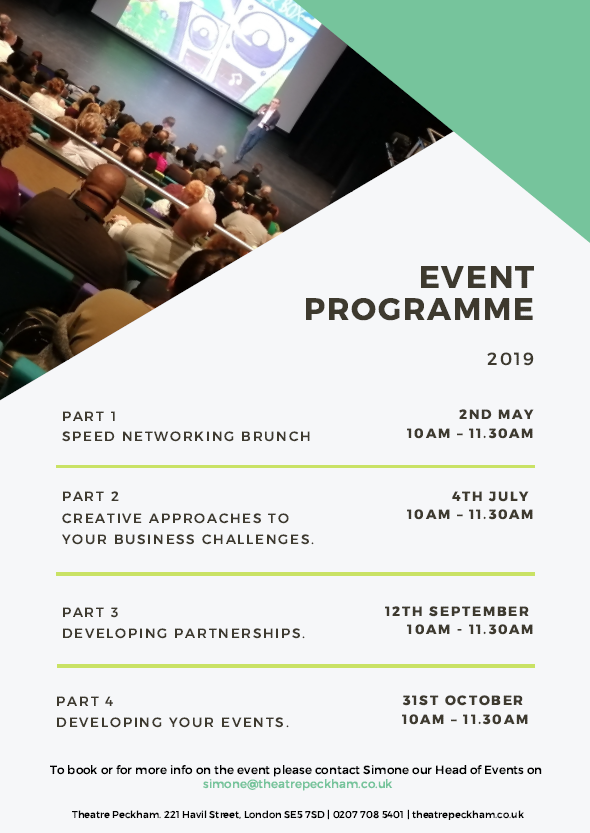 Business Brunch with Camberwell Business Network and Theatre Peckham
Date/Time
Date(s) - 04/07/2019
10:00 am - 11:30 am
Location
Theatre Peckahm
Categories
Theatre Peckham and Camberwell Business Network invite all local businesses to their next Business Brunch on Thursday 4 July from 10 to 11.30 am at Theatre Peckham: Creative Approaches to Local Opportunities. 
Business Brunch is a 4-part quarterly event, hosted at Theatre Peckham, where local and corporate businesses can come together build relationships, develop networks, share best practice and exchange skills in the heart of the community where creativity and innovation thrives.
Theatre Peckham and Camberwell Business Network will host you over brunch and facilitate conversations on how we can work together to make our business community more agile, more responsive and more connected.
Find out how to make the most of opportunities to grow your business
Hear about the new proposals for Camberwell branding – lamppost banners, murals, signposting at the station.
Network – and get the latest news from the Camberwell Business Network
No matter how successfully our business are, we all face challenges. This workshop event looks at creative approaches to innovation and problem solving, where learning leads to resilience. Come prepared to share a business challenge and receive support from your peers in solving it creatively. Arrive at 10 am for pre event brunch.
Becoming a part of the Business Brunch Network will allow you to: 
Access to discounted hire space in the theatre, studios or meeting rooms for your meetings, training sessions or events. (Dependant on availability and demand)
Receive information on events organised by Southwark Council for local business in the area to troubleshoot issues, disseminate info on council-led events and initiatives that effect your business.
Access exclusive opportunities to promote your business at Theatre Peckham Performances and Events (we work with over 500 families and young people in the local area)
Develop partnership opportunities with local business and corporate organisations, as part of Camberwell Business Network.
Have a free breakfast / brunch once a quarter.