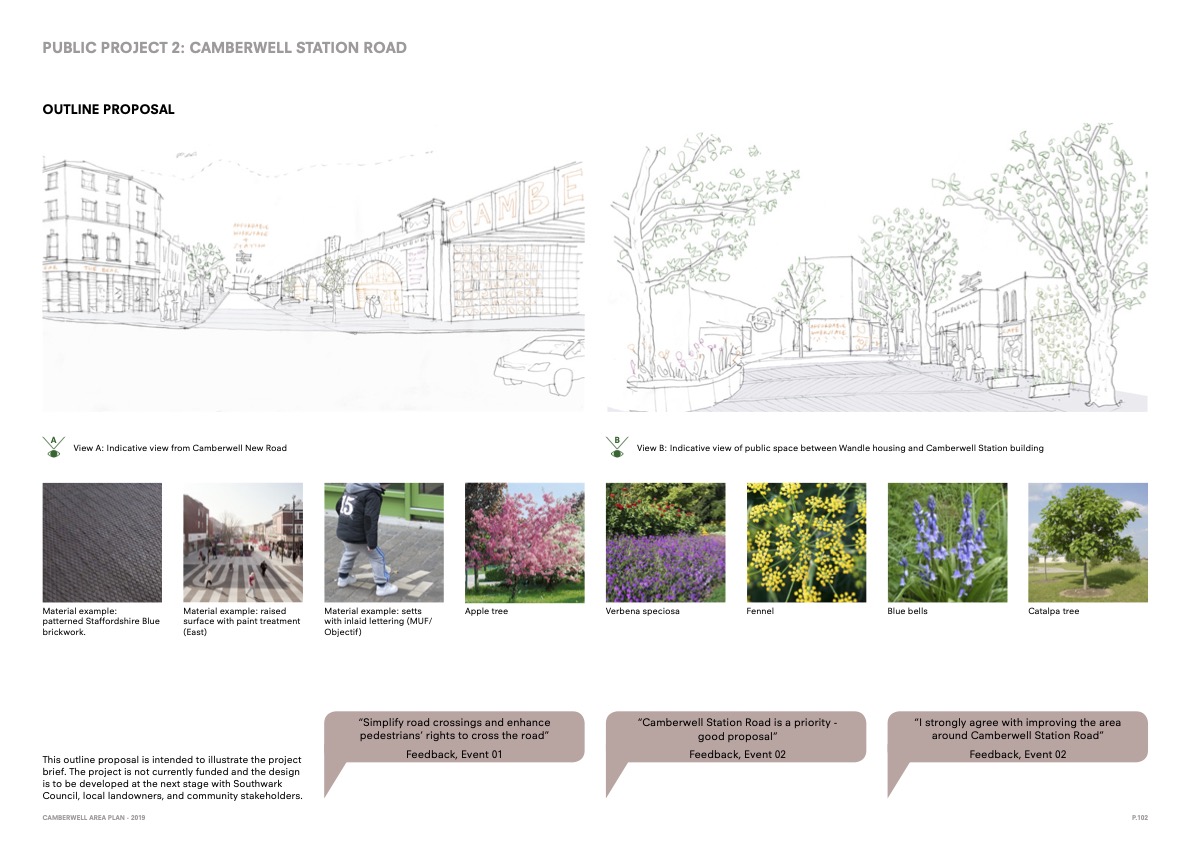 What is happening on Camberwell Station Road? Join a Zoom meeting hosted by SE5 Forum for Camberwell with Southwark Council to have your say on improvements to Camberwell Station Road. The online consultation event runs on Zoom from 6pm to 7pm on Tuesday 30 November. 

Everyone is welcome but you will need to register for the event on Eventbrite to access the meeting: Click here
www.eventbrite.com/e/camberwell-station-road-consultation-tickets.

Southwark Council won a grant from the Greater London Authority (GLA) Good Growth Fund to make Camberwell Station Road safer and more inviting to individuals and businesses, to improve air quality and reflect local history. Work is due to start in 2022.Magda Bartosch, Regeneration Manager (South) at Southwark Council, will brief local residents and stakeholders on the work that has been done to produce the concept designs for Camberwell Station Road, including who has been involved so far and how you can engage with the project going forward.
Read more on the background here: 
www.southwark.gov.uk/regeneration/regeneration-projects/camberwell-regeneration/camberwell-station-road


Click here to attend the free consultation event and have your say:
www.eventbrite.com/e/camberwell-station-road-consultation-tickets




Winter Arts Market & SE5 Forum Market Stall
Saturday 27 November, Winter Arts Market on Camberwell Green 11am-4pm. 
Come and browse the 50+ stalls at Camberwell Arts Winter Arts Market on Camberwell Green and get your Christmas presents early while supporting local artists, designers and makers. Discover Christmas crafts and gorgeous gifts with a seasonal mix of art, design, outdoor decorations, music, mulled wine and more.

The arts market takes place alongside an expanded Farmers Market of 20+ stalls, including the SE5 Forum community stall with our popular range of Camberwell mugs, butterfly t-shirts and our brand new tea towel design featuring our illustrated map (see below) with highlights of the local area.

Artists, designers and makers will also be opening their studios for this year's Winter Open Studios.
Read more here: www.facebook.com/camberwellartsfestival. Camberwell Open Studios runs across 3 weekends, from Saturday 27th November to Sunday 12th December, and studios are open from midday – 5pm unless otherwise indicated. This is your opportunity to meet local artists and buy directly from the maker. 

More information will be published on the Camberwell Arts website and in the brochure before the festival starts.




 

Southwark Community Action Network (CAN): Social Action network event
Join CAN's quarterly event by registering on Eventbrite on: bit.ly/CANcommunity




 

Covid-19 Update 
Where to find the latest information on vaccination, testing, support when self-isolating and restrictions: 
In Lambeth: Coronavirus (Covid-19) public health advice and current restrictions | Lambeth Council
In Southwark: Coronavirus (COVID-19) – Southwark Council
In South East London Boroughs, including Lambeth and Southwark: COVID-19 – South East London CCG (selondonccg.nhs.uk) and for the latest vaccination pop-up clinics click here
Government: Coronavirus (COVID-19) – NHS (www.nhs.uk)