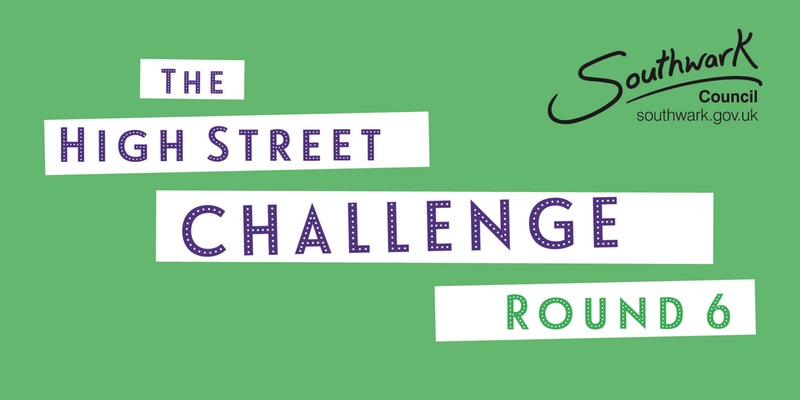 The High Street Challenge Round 6
Southwark Council – High Street Challenge Knowledge Exchange
Round Six of The High Street Challenge will open on Monday, inviting proposals for a sixth set of pioneering projects that will help achieve the following goals:
Promote town centres and high streets for increased footfall and customer spend
Diversify what town centres and high streets offer to attract more people throughout the day and meet changing demands
Transform spaces to attract new customers to the high street and engage people for longer
Improve connections between businesses, residents and community groups to help high streets and town centres to thrive.
The closing date for applications is 5pm on the 21st March 2017.
This will be the final round of the High Street Challenge.
Who can apply?
The fund is open to range of organisations and we welcome partnerships that bring together diverse skills and expertise. We want to hear from you if you are a:
Business network
Group from the arts or creative sectors
Educational establishment such as a school, college, or university
Voluntary sector, community or resident group
Individual business (if representative and supported by other local businesses).
If you have an inspirational idea, located in one of the borough's high streets or town centres, that will help shops and businesses to thrive and bring long term benefits to Southwark, we want to hear about it.
To apply, visit Southwark Council's website where (from Monday 20th February) you will find The High Street Challenge prospectus and application form and you can also read about the projects we have already funded.
http://www.2.southwark.gov.uk/info/100002/business/3381/the_high_street_challenge
Finding out more: Southwark Council – High Street Challenge Knowledge Exchange
The council is organising a 'knowledge exchange' on the 27th February, you'll be able to speak to council officers and organisations who have successfully delivered High Street Challenge projects from previous rounds of funding.
The event will be 10.30-12.30, 27th February at the East Street Enterprise Hub, 53-63 East Street Market, London SE17 2DJ.
To find out more and book a place visit:
https://www.eventbrite.co.uk/e/southwark-council-high-street-challenge-knowledge-exchange-tickets-32150531104?utm_term=eventurl_text
Liz Gardiner – Senior Strategy Officer