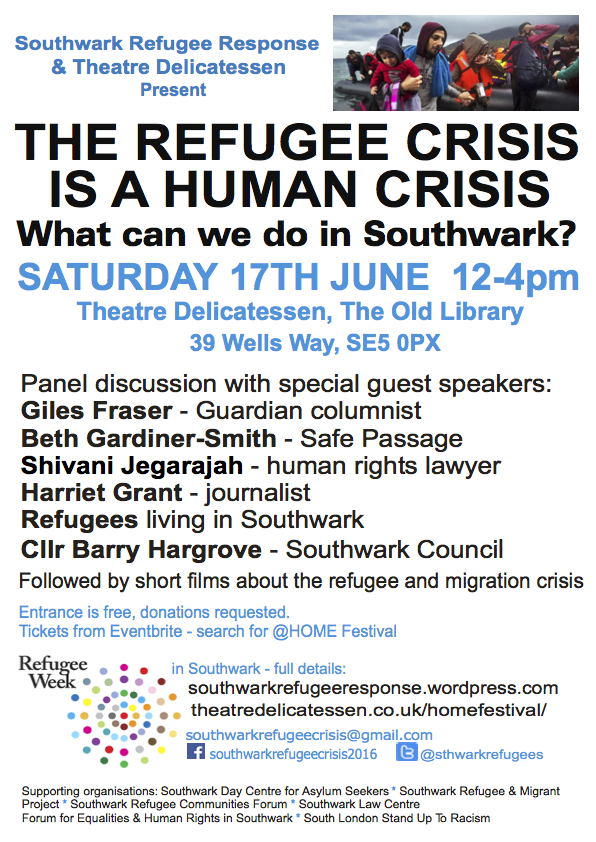 REFUGEE WEEK IN SOUTHWARK
Southwark Refugee Response campaign is this year working with Theatre Delicatessen based in the Old Library, 39 Wells Way, SE5 0PX to put on an array of events during refugee week 17th -24th June.

We have debate, theatre, music, films, story-telling and spoken word. All events are free but donations are requested.
Launch event Saturday 17th June, 12-4pm :
The Refugee Crisis is a Human Crisis – what can we do in Southwark : An afternoon of discussion and films chaired by Giles Fraser, Parish Priest St Mary's Newington and columnist for The Guardian.

Confirmed speakers include:
Beth Gardiner-Smith: Safe Passage on the Dubs Amendment and what happens now

Shivani Jegarajah: Justitia Chambers, one of Chambers and Partners Best Lawyers 2017, on protecting human rights in a hostile climate

Harriet Grant: award winning freelance journalist on UK government returning refugees to other European countries
Refugees living in Southwark
Councillor Barrie Hargrove: Southwark Council Cabinet Member for Communities and Safety on Southwark's plans for Syrian refugees
Following the debate we will show some short films
No human is illegal a short film presented by the LAWRS Sin Fronteras Project
Miracle Life a short film from My Pockets, multi award winning production company
Frozen Out: the US interpreters abandoned on Europe's border a short film presented by photojournalist Alice Aedy
To book a place please visit Eventbrite: https://goo.gl/IXTiOT

Please help us to publicise the events on your websites, on social media and newsletters

Here is the link to the full programme for refugee week 2017 https://goo.gl/Id2giO

Here is a link to the Southwark Refugee Response Twitter account: https://goo.gl/u9BNR9 Please follow us @sthwarkrefugeesand retweet information about the event. Help us to raise awareness of these crucial issues.