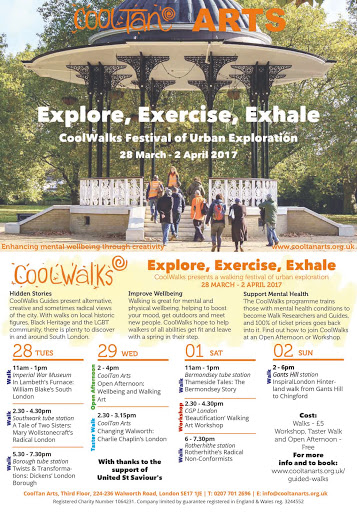 EXPLORE, EXERCISE, EXHALE: CoolTan Arts Festival of Walks and Urban Exploration 28 March- 2 April
Dear Walker and Urban Explorer,
CoolWalks team are delighted to be launching 2 new tours, 4 redesigned walks and 2 walking workshops, all part of this exciting Spring Festival of Walking and Creativity.
The leaflet is attached but to find out more about individual walks just visit: www.cooltanarts.org.uk/guided-walks
And please do support the festival not only by signing up and joining a walk but by spreading the word. All sales and any additional donations contribute directly to CoolWalks programme. So we look forward to seeing you at one of our unique walks, led by one of dedicated volunteers.

Charlie Fox
Project Coordinator and Walk Leader Trainer CoolWalks