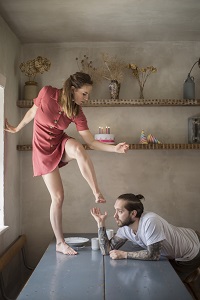 Turtle Dove
Date/Time
Date(s) - 29/10/2019
8:00 pm - 9:00 pm
Location
Blue Elephant Theatre
Categories
Everyone loves a love story. Turtle Dove explores true tales of the sometimes bumpy, funny and sad journeys we take with our relationships. Made from interviews with people of all ages and sexualities, their voices are weaved into the musical soundtrack and their honesty and secrets are brought to life through dance and theatre. This duet is a heart-warming, candid and witty show that celebrates all forms of love and touches on life's heartaches.
Devised in collaboration with leading composer Dougie Evans and script writer for the BBC Nick Walker, Turtle Dove is characterised by creative use of text, effortless physicality and its authenticity. Come and experience the stories of strangers who will soon feel like friends.
Produced in association with Lîla Dance.
Tickets and more info here.