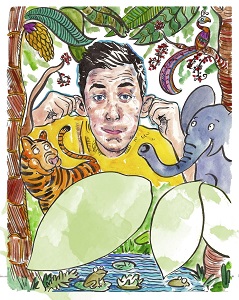 Story Time with Craig Jenkins
Date/Time
Date(s) - 13/05/2018
2:00 pm
Location
Blue Elephant Theatre
Categories No Categories
Enjoy an afternoon of fun, laughs, songs and stories as storyteller Craig Jenkins performs Story Time –classic folktales from across the world.
Listen to the adventures of the animals of the jungle as lion, monkey, elephant and mouse take part in mischief and fun, while the children of the city have some hilarious adventures of their own!
With a playful and interactive style, this 50 minute show is a perfect Sunday afternoon treat for children aged 5+ and their families.
Craig Jenkins is an internationally renowned storyteller who has performed stories for children around the world in England, India, Singapore, Malaysia, Indonesia, Thailand, Vietnam, Italy, Taiwan and the United States of America.
Over the last ten years, he has performed for high profile organisations such as the BBC, the Barbican Centre, the British Museum, the British Film Institute and the High Commission of India (London), as well as using storytelling in a wide range of education, outreach and community settings.
Suitable for ages 5 and over.