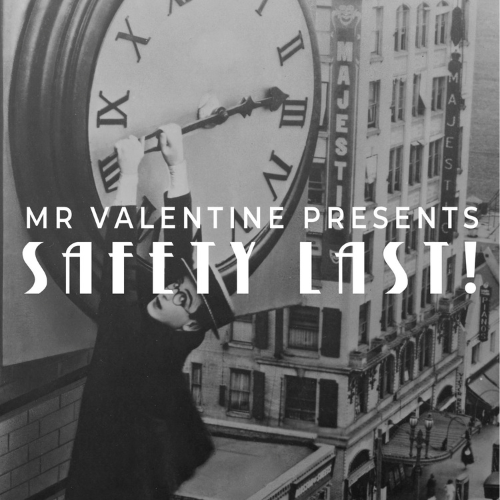 Mr Valentine Presents: Safety Last. Silent film starring Harold Lloyd with live music!
Date/Time
Date(s) - 24/09/2023
7:00 pm - 10:00 pm
Location
St Giles Church
Categories
Film: Mr Valentine Presents Safety Last.
Silent film starring Harold Lloyd with live music!
Sunday, September 24, 2023

7:00 PM  10:00 PM

Tickets – https://musicatstgiles.com/events/sept23-silent-film-mr-valentine-presents
Join Mr Valentine, AKA Ashley the organist, at St Giles for the silent film classic "Safety Last!" starring Harold Lloyd. Ashley will be playing live on the organ, set to his own amazing live score.
You all know this film. It's the one where Harold Lloyd is hanging off a clock face with the streets of New York far below!
If not, here's a refresher about why it's such an amazing film from the Guardian and check out the trailer.
www.theguardian.com/film/2023/mar/24/dont-look-down-100-years-of-harold-lloyds-safety-last
Harold (yes the character has the same name as the star!) leaves his small country town and heads to the big city to get a job. As soon as he makes it big his sweetheart, Mildred, will join him and marry him. His enthusiasm to get his girl leads him to slightly "embellish" his his new job at a department store. She comes to the city to meet her fiance, who she thinks is now the manager of the store.
For reasons that only a Harold Lloyd film can get away with, Harold decides the only way to show his love for Mildred is to scale the whole of the building.
Original new music will be written and played by Ashley Valentine. Ashley is of course famous as the organist for ORGANOKE and if you've never been to one of our "Mr Valentine Presents" evenings before you are in for a magical treat.
This is no boring silent film. It's got laughs! It's got daredevil stunts! It's got romance!
This is a musical treat and one of the best films that the silent era has to offer.
There will be a licensed bar serving alcoholic and soft drinks as well as pop corn and snacks.