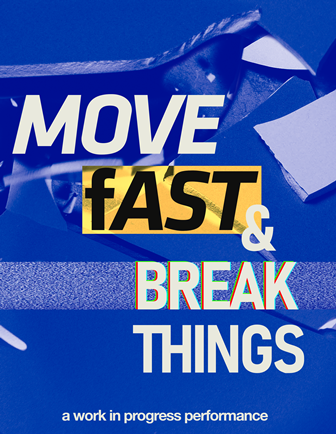 Move Fast and Break Things
Date/Time
Date(s) - 24/01/2020
8:00 pm - 9:00 pm
Location
Blue Elephant Theatre
Categories
"Move fast and break things. Unless you are breaking stuff, you are not moving fast enough." Mark Zuckerberg
We are moving fast.
Really fast.
Powered by data, we are hurtling towards a future where algorithms determine the direction of all of our lives. What we wear. What we eat. Who we vote for. Who we love.
In fact, they already do all of these things.
Because, we moved fast.
But somewhere down the line, we will wonder:
What did we break?
And can it be fixed?
Alone in an office, one Facebook moderator thinks about these things.
And decides to take action.
What happens next will change everything.
Freight Theatre present a work-in-progress show about the internet and ourselves. A piece of movement theatre that delves deep into the world of Big Data in search of something to celebrate: in search of what it really means to be human.
Tickets: £4.00 Southwark residents & Concessions, £6.00 general admission
Praise for previous work:
"Works beautifully" – The Scotsman (4*).
"Actually practises what it preaches" – The Sunday Times.
"Brilliant from start to finish" – The Cherwell (4.5*).
"A treat to behold" – DailyInfo.
Freight Theatre are a London-based emerging theatre company who cover big issues through intimate human stories. We believe in making theatre that can be shown anywhere for anyone – location and situation should be no barrier to the opportunity to experience experimental theatre. Founded three years ago, previous projects have included plays such as 'Lovesong' (Abi Morgan) and 'The Crocodile' (Tom Basden), and devised movement theatre including a new play, 'Brink'(Alastair Curtis).