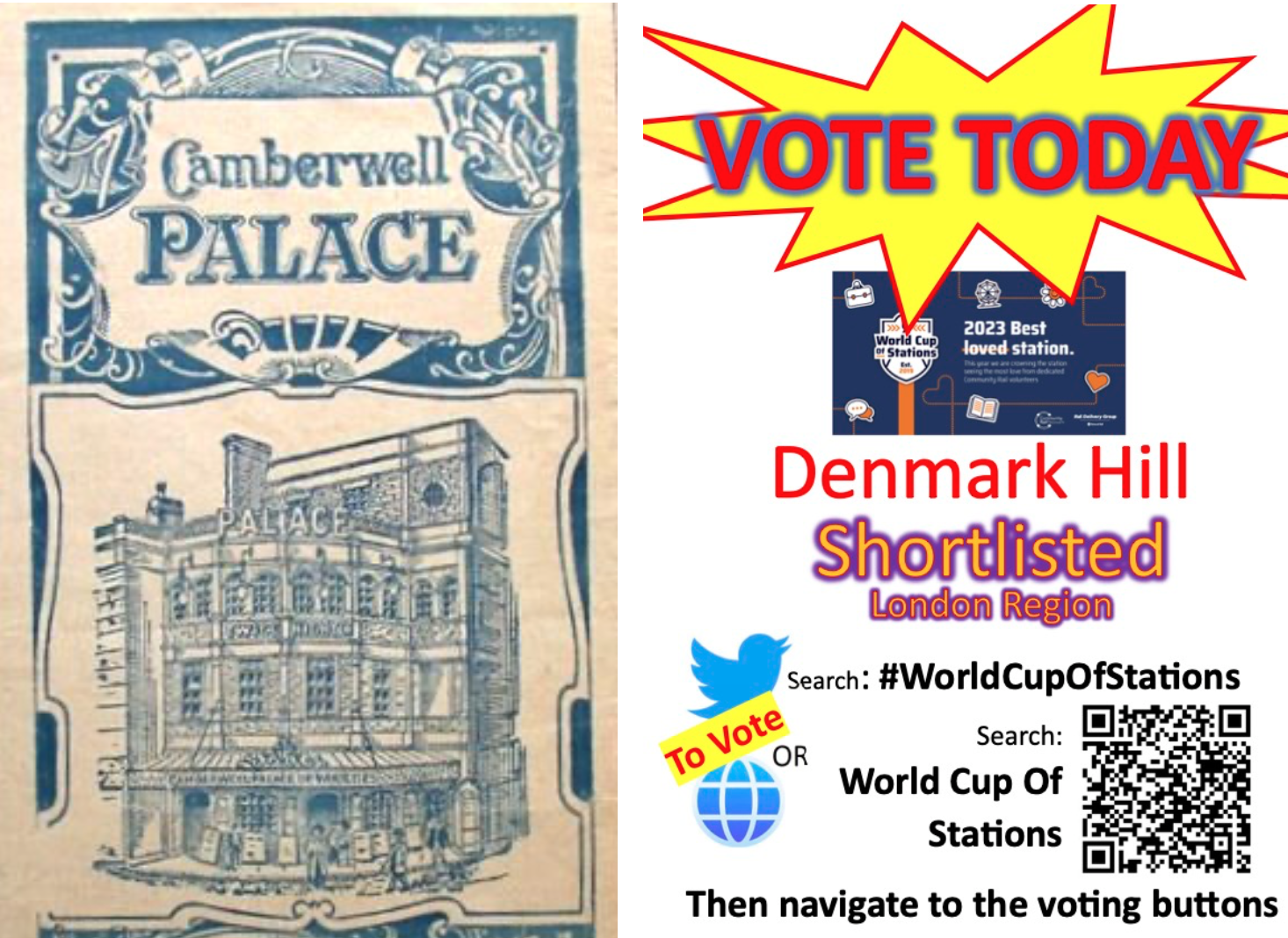 Vote for Denmark Hill station in the World Cup of Stations • Camberwell Talks: delving into Camberwell's music hall past • plus new murals, health and wellbeing news, and What's On. Read more here…
Vote for Denmark Hill in World Cup of Stations!
Our amazing local station of Denmark Hill has been shortlisted to represent London in the World Cup of Stations: a competition to find the best loved station in the UK.
If you like what has been happening at Denmark Hill, then please vote to get the station through to the next round. You can vote on Monday 22nd May on Twitter #WorldCupOfStations or on the website. If the station gets through to the next round, you need to click again on Thursday and maybe even again in the final on Friday!
Walworth Garden on BBC Gardners' World tonight
See your community garden on the small screen tonight on BBC Two's @gardenersworldtv! Walworth Garden say: "We've come a long way from being a derelict plot of land, all through the contributions of local people – for and by the community. Learn more about our Gardening Therapy programmes, along with all our other programmes as well as our history." Instagram: walworthgardenwalworthgarden.org.uk.
Partnership Southwark: Health & wellbeing in Camberwell
Partnership Southwark and Southwark Culture Health and Wellbeing Partnership would like to invite anyone interested in a thriving community in Camberwell to come together and hear about the wonderful things going on that support health and wellbeing (below).

The meeting will be a great opportunity to meet like-minded people, share the work and activities you are involved in the local area and explore ways in which we can work together. If you have any questions about the meeting or would like to take a more active role, please email: Partnership.Southwark@selondonics.nhs.uk. Sign up for free on Eventbrite.




Your Care, Your Choice: A course for Black people and those that support them (above)
This pilot course from South London and Maudsley (SLaM) has been co-produced with Black people with lived experience, their carers/supporters, mental health staff, and researchers – for back service users, carers/supporters, & mental health staff. Every Tuesday in June from 10am – 3pm (June 6, 13, 20 & 27) at the David Goldberg Centre, 18 De Crespigny Park, London, SE5 8AF. Sign up to the course here or email recoverycollege@slam.nhs.uk or call 020 3228 3643u3a: A chance for retired and semi-retired locals to share interests
u3a is an organisation of retired and semi-retired people who meet in small, friendly groups in own house or local venues to share interests and activities – from music, knitting, craft, mahjong to languages and arts and more. They also visit places of interest. It's a national organisation but local groups cover Camberrwell and other south London areas.They are keen to reflect the rich diversity and culture of south London. For more information and to find local activities: u3a.org.uk.
---
Camberwell Murals
---
Mural Public Consultation: Masterman House Wall.
Camberwell Identity Group is asking the public for their views on commissioning a mural on Masterman House wall (below). Tomorrow, Saturday 20 May, 10am-5pm they will be at Rust Sq/ Burgess Park talking to passersby, residents, dog walkers, parents with children and anyone interested! The dominant theme will be celebrating local hero Kye Whyte, BMX silver medalist at the Tokyo Olympics and former resident of Masterman House. Other themes can be included. If want to give your views, please come along.
OR email camberwellmurals@gmail.com.
Call-out for public art work on Southampton Way Estate
Southampton Way Tenants and Residents Association is launching an exciting murals project for the Southampton Way Estate (above) – with a call-out to an artist or art collective to create a public art work on two estate walls, collaborating with the community. The full brief can be read here. Apply by 5 June 2023.
---
What's on in Camberwell:
---
Camberwell Green Market: Sat 20th May
The popular Herbal Haven (below) will be attending the next Camberwell Green Market with their extensive range of Culinary, Medicial and aromatic herbs alongside a wide range of stalls from hot food stalls, Camberwell Honey, Cheese, Pasta, local artisans, craft, natural beauty products and much more. Come and make a day of it: running Saturdays 10am – 4pm. Full list on Instagram @camberwellgreenmarket




Camberwell Talks: Monday 5 June 7pm: Our next talk presented by Camberwell Arts: local historian Richard Norman brings entertaining stories of Camberwell's role in the early days of film production and music hall comedy, with clips + music of the era. The talk ties in with the Camberwell Arts Festival's theme this year of Showtime, which runs from 10-18 June. camberwellarts.org.uk.
BOOK TICKETS HERE

Peckham Fringe: until Sunday 4 June
Theatre Peckham brings you the second annual Peckham Fringe, a festival of dynamic stories and culture: Go to What's On.

Camberwell College of Arts Foundation Diploma show: is open to the public from 20-25 May, with a social Friends & Family day 20th May. Check here for days and times.

Alice's Adventure in Aerialand: Myatts Fields Park: Longfield Hall presents Alice's Adventures in Aerialand aerial open-air circus adaptation of Lewis Caroll's classic story. Dementia friendly and additional needs accessible show. 11 June & 30 July (2pm & 6pm), Myatts Fields Park. Adapted by the Dot Collective. Book tickets here

Feel Good Festival: Sat 8 July Camberwell Green • Sat 15 July Ruskin Park: Save the dates for SE5 Forum's popular free health and wellbeing event – the Feel Good Festival with free health checks, food, local food charities, choirs, music and much more.
London Festival of Architecture: Loughborough Farm
There will be a variety of free workshops and activities around the theme of Common Gardens at Loughborough Farm on Saturday 10th June, as part of the London Festival of Architecture: Find out more here