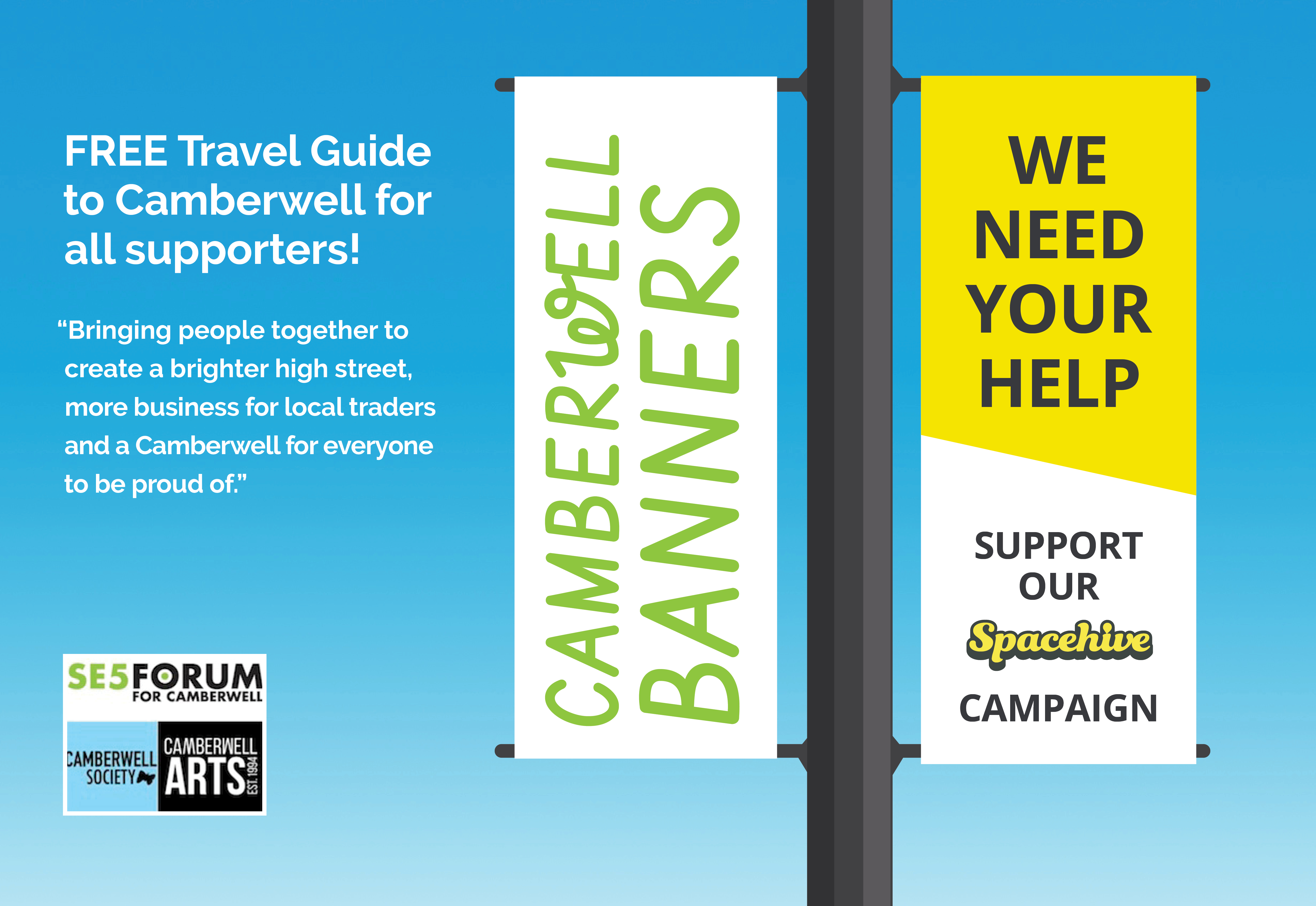 Camberwell Banners – support our Spacehive campaign!
www.spacehive.com/camberwell‐banners. We need your help on Spacehive by 18 June
Support inspiring Camberwell lamppost banners from Denmark Hill station to Camberwell Green and get a free Travel Guide to Camberwell 2019 – the essential companion for those in search of the real SE5.
SE5 Forum, Camberwell Arts and Camberwell Society have got together to design new Camberwell Identity projects with the local community (banners, murals, floor vinyls at Denmark Hill, travel guide to Camberwell and more) to encourage visitors, boost the high street and celebrate the unique vibrancy of our area.
Now we've launched a fundraising campaign for one of our projects – Camberwell Banners – on Spacehive and we need your help! With your pledge, this can happen! If we get 150 people to pledge by 18 June, the Mayor of London should matchfund the project – doubling your pledge!
Some of our favourite shops are closing in Camberwell ‐ Cruson grocers, GX gallery, and Pesh flowers. Yet 5 million patients use King's College Hospital and more than 3 million pass through Denmark Hill Station every year. Camberwell Banners will install raised lamppost banners along Denmark Hill to lead visitors to the hospitals and station down the high street to discover the wonderful cafes, shops, restaurants, businesses, green spaces and galleries of Camberwell.
Go to: www.spacehive.com/camberwell‐banners & pledge from £2
If you'd like to give some feedback on the banner design, come down to our stall on Camberwell Green on 15 June at the Camberwell Art Festival's Art of the Party launch.

Many thanks for your support.