Our Mission
The SE5 Forum works to improve Camberwell for the benefit of all members of our diverse community. We are a voluntary group of board members working closely with our supporters and the community. SE5 Forum was set up to be the eyes, ears and voice of the community, to see and understand what is happening within the area, to listen to concerns and raise them with the relevant organisations.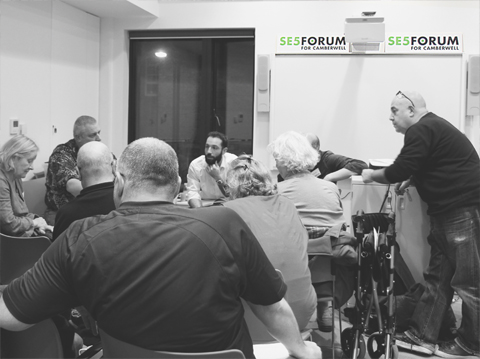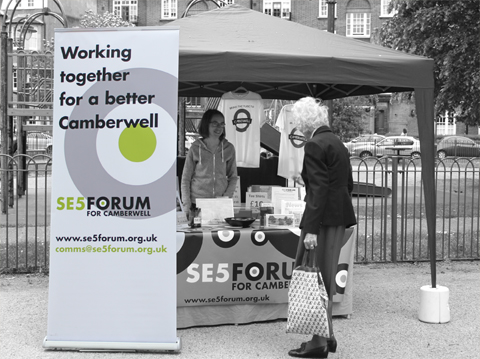 Partnership
The SE5 Forum works with a number of partners in the local community to gather views and deliver improvements. Find out more about our partners here.
New Vision & strategy for Camberwell
The SE5 Forum consulted the views of Camberwell people to find out what people like about Camberwell and what they want to change. We worked on a new Vision for Camberwell to capture and share those views. The Vision set out the areas that people wanted to focus on for the next 3 years. This fed into our Strategy & Action Plan 2018-21 focusing on Business, Transport and Identity. We are now finalising our Strategy for 2021-24 focusing on Business, Transport and Identity and a new Environment theme.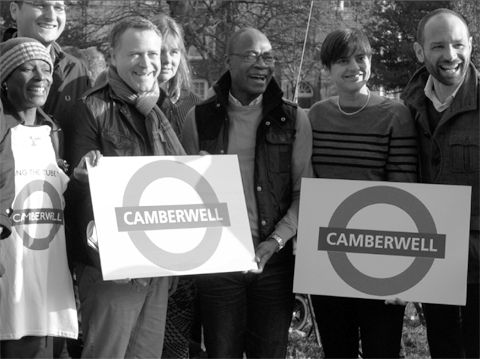 Marie Staunton Secretary

Marie is Secretary of SE5 Forum and also leads on Camberwell identity. She is a key member of the Camberwell Identity group, which is made up of SE5 Forum, Camberwell Arts and Camberwell Society, as well as other volunteer experts. Marie has extensive CEO, board and chairing skills in the voluntary and non-profit sector.

Andy Murray Treasurer

Andy is an accountant and brings his considerable financial skills to the SE5 Forum board.

Simon J Taylor

Simon J Taylor is the SE5 Forum Arts lead and is also involved in the business group.
Nigel Brissett

Nigel is a surveyor and has worked on a number of development and regeneration projects in London. He is CEO of Xian Capital and a Director of Black Enterprise Forum Ltd. His passion is to see growth and development in south east London, and he is concerned about issues relating to youth education, poor housing job creation in the area. As a new SE5 Forum board member in 2020, Nigel is looking to identify and explore new ideas surrounding development opportunities, regeneration and job creation.

John Frankland

John has been involved in community safety since 1986 and has chaired the Herne Hill Safer Neighbourhood Panel since 2005. He is also a member of the Coldharbour Panel and the Lambeth SNP Chairs Group. John works with three Lambeth area forums and is a school governor. John is SE5 Forum Deputy Lambeth Rep.
Mastoor Khan

Mastoor is actively involved in the Camberwell Identity group and establishing links with local faith groups.

Lauren Johnson-Ginn

Lauren joined the SE5 Forum Board in 2020 as a near-lifelong local resident and is keen to be involved in projects and initiatives to improve the local area for the benefit of the community, especially for young people. Lauren has a decade of editorial and marketing experience and will bring essential skills of marketing, digital, event and business outreach.
Toby Holland

Toby joined the SE5 Forum Board in 2020 and has lived in Camberwell for three years. Before joining, he was already an active supporter of the SE5 Forum with his involvement in local campaigns such as applying for an Asset of Community Value for The Bear Pub. He is a data scientist and brings much-needed experience of supporting organisations with management and analysis of membership and survey data.

Joanna Large

Joanna has been resident in Camberwell for more than 20 years with two children at local schools. She is founder of the campaign to save and develop the Cold War dated Camberwell Bunker site into a local asset and organised a relay marathon to raise more than £3k for a food bank. She hopes to develop this into the Great Camberwell Run to raise money for Camberwell charities. Joanna has been a nurse at King's College Hospital for more than 15 years but also has a background in the arts and is keen to support Camberwell's unique artistic energy.

Will Reeves

Will has re-joined the SE5 Forum bringing his passion for and extensive experience to focus on environment and transport issues locally – especially air pollution and reducing emissions around SE5, working with the councils to install more electric vehicle charging points and promoting the good work companies in SE5 are doing to reduce emissions, such as the two bus garages.