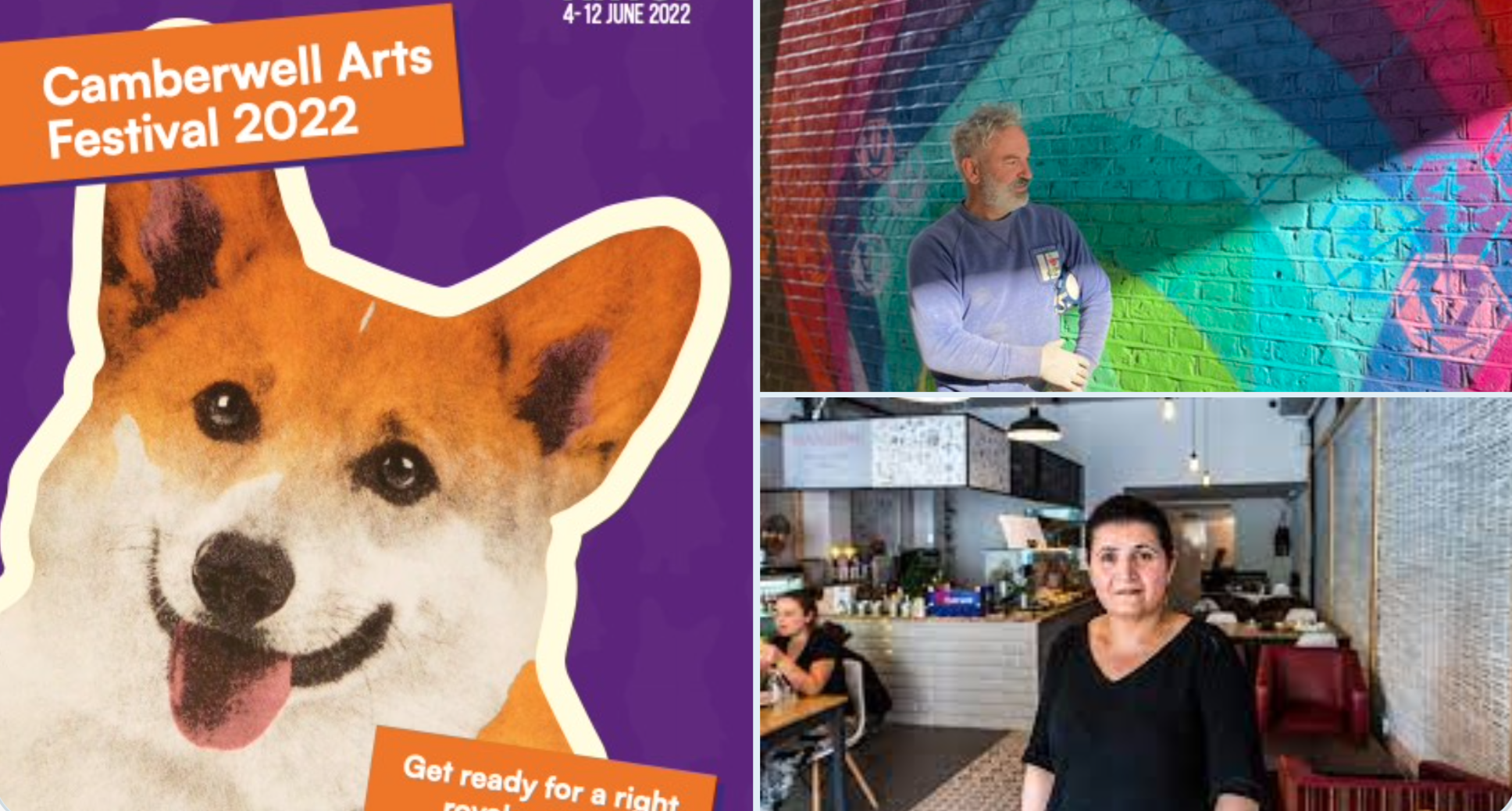 Platinum Party on the Green this Saturday!
Big Feast, Community Kitchen, art stalls, dog show and more
This year's Camberwell Arts Festival (4-12 June) kicks off in platinum style on Camberwell Green. A free feast has been laid on for all and SE5 Forum has teamed up with Camberwell Arts, and local food bank Spring Community Hub to create a Community Kitchen on healthy food:

• Big Feast – Camberwell's fantastic restaurants are providing a free Jubilee feast. Serving starts at 12noon until the food runs out! 
• Community Kitchen – Food demos and ideas focusing on healthy food and food poverty. Starts at 11am with a Food Fuel demo followed by the QuizDog fun-filled quiz at 12 and a No-bake treats session at 2pm. Come to the SE5 Forum stall to join in. 
• Arts Market – browse 70 arts market stalls between 11am – 5pm
• Family fun, music and a Fire Engine on site (11am-1pm) 
• Dog Show at 2pm (register your dog from 1.30pm)

PLUS don't forget to send your unique Camberwell photos to Camberwell Arts' new archive: share your favourite photographs of Camberwell from 1952 to today.
SUBMIT YOUR PHOTO HERE

Download the @Camberwell Arts brochure here


New mural for Wyndham Road celebrates Camberwell's vibrant community

Unveiled for the Camberwell Arts Festival, artist Joel Gray, master stonecutter from the Anish Kapoor's Studio, has painted the new 'Patterns of Camberwell' mural with help from London Urban Textiles Commons.

The mural was designed with the artist working with pupils from the two local schools next to the studio – Ark All Saints Academy and Highshore School, using expanding geometric shapes drawing on religious, cultural and artistic traditions associated with Camberwell. It was organised by the Camberwell Identity Group (a joint project of SE5 Forum, Camberwell Arts and The Camberwell Society). 


 
Camberwell Talk: Nandine's Pary Baban tells the moving story of her much-loved Kurdish recipes 
Monday 6 June, 7pm, at The Crypt, St Giles' Church 
Pary Baban fled genocide with her family as a young Kurdish woman, holding on to her love of food and cooking passed down by her grandmother, by collecting unique Kurdish recipes from villages on her way. Now she runs her two successful Nandine restaurants in Camberwell based on these delicious recipes. Expect tasters and a chance to win a Nandine meal in the raffle. 
Book tickets here: https://www.eventbrite.co.uk/e/camberwell-talks-summer-2022-tickets-324845500637


 
ON a more negative and urgent note – bus routes are being cut…
TfL Bus Route Reductions in Camberwell and wider area
Have your Say on proposed removal of routes 12, 45 and 78

Respond to the TfL consultation by 12 July here. 
Sign the Change.org #SaveSouthwarkBuses petition

Transport for London (TfL) has just announced proposed reductions to bus routes, which will affect Camberwell residents with the removal of routes 12, 45 and 78. We are encouraging everyone to respond to the consultation and sign the petition. 

At our SE5 Election Hustings in April, we asked for 'No reduction in the level of bus services through Camberwell', with agreement from all candidates. SE5 Forum will be putting together our response to the consultation. 
Please contact us at admin@se5forum.org.uk if you have expertise in this area and would like to contribute.  

The reductions have been already severely criticised by Southwark Council leader Kieron Williams, and both local MPs Harriet Harman and Helen Hayes:

"The proposed cuts to buses announced today would be deeply damaging…Southwark runs on buses. They're how 1,000s get to school,work & family & it's disproportionately people experiencing the hardest lives that depend on them most. At a time when we also need to urgently cut carbon emissions cutting public transport is on every level the wrong call": Cllr Kieron Williams

"Tube-less Camberwell and Peckham needs more buses not fewer! What an irony days after Elizabeth Line opened! We must have detailed "impact assessment" on race/class/gender. Elderly at risk on crowded buses, women/girls not safe waiting/walking, etc": Harriet Harman MP

"…cuts to bus services…will have the worst impacts on Londoners on the lowest incomes, women & those from Black & minoritised communities, at a time when the climate emergency means we need more public transport not less. It isn't acceptable." Helen Hayes MP

Respond to the TfL consultation by 12 July here. 
Sign the Change.org #SaveSouthwarkBuses petition