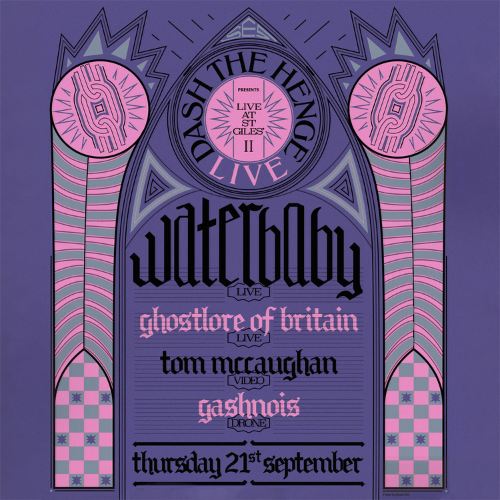 Dash The Henge LIVE presents WATERBABY with support from Ghostlore of Britain
Date/Time
Date(s) - 21/09/2023
7:30 pm - 11:00 pm
Location
St Giles Church
Categories
Dash The Henge LIVE presents WATERBABY with support from Ghostlore of Britain
Thursday, September 21, 2023

7:30 PM  11:00 PM
Music At St Giles are over the moon to have Dash The Henge back for a second takeover of St Giles. Our plan is for this to be a regular event, with a percentage of every ticket sold will be contributed to The Friends of St Giles'.
Waterbaby bridges analog and digital realms, fusing Cocteau Twins-like vibes with modern experimental electronica.
Waterbaby (AKA Martha and Jessica Kilpatrick) hail from South London, and were shaped by their choir days at  Southwark Cathedral and cassette tape experiments in their Peckham flat.
They've emerged as enigmatic figures in the London scene, collaborating with artists like Kedr Livansky and TAAHLIAH. In 2022, they gained notice with two singles on London label untitled (recs) and NTS Radio appearances. Their album weaves a journey from dawn to dusk, blending magic and everyday life.
Support: Ghostlore of Britain LIVE
Ghostlore of Britain perform musical vibrations and meditations to break though the veiling power of Maya and self perpetuating control mechanisms, through subtle esoteric technology and words of worship to reveal the divine spark.
The Changing of the Guard is the title of a psychic quest undertaken by Ghostlore of Britain (Sarah Hartnett & Kieron Livingstone). Commencing on the Hoo Peninsula on the Thames estuary during the 'Great' conjunction 2020, the journey then continued on to the Cornish Peninsula at the time of the G7 summit 2021.