UPDATE:

Thank you for coming to our fantastic AGM!
Thank you to everyone who came to our SE5 Forum AGM: Creating a Camberwell iD. It was a highly successful event, with 50+ attendees and lively discussions.
The main focus of the evening was the work of our Camberwell Identity group in partnership with Camberwell Arts and Camberwell Society and in consultation with the community. Projects to strengthen Camberwell's identity include murals, banners, vinyls and illustrated maps, as well as a new brand expression for Camberwell that can be used by local organisations and businesses.
There was also a volunteer presentation by Southwark's Deputy Mayor Barrie Hargrove and our Chair Barbara Pattinson to community safety volunteer Mark Webb, who had received the Keib Thomas Active Citizen of the Year award from Community Southwark.
We would also like to thank Camberwell College of Arts, University of Arts London (UAL) for their kind offer of the Wilson Hall for the event.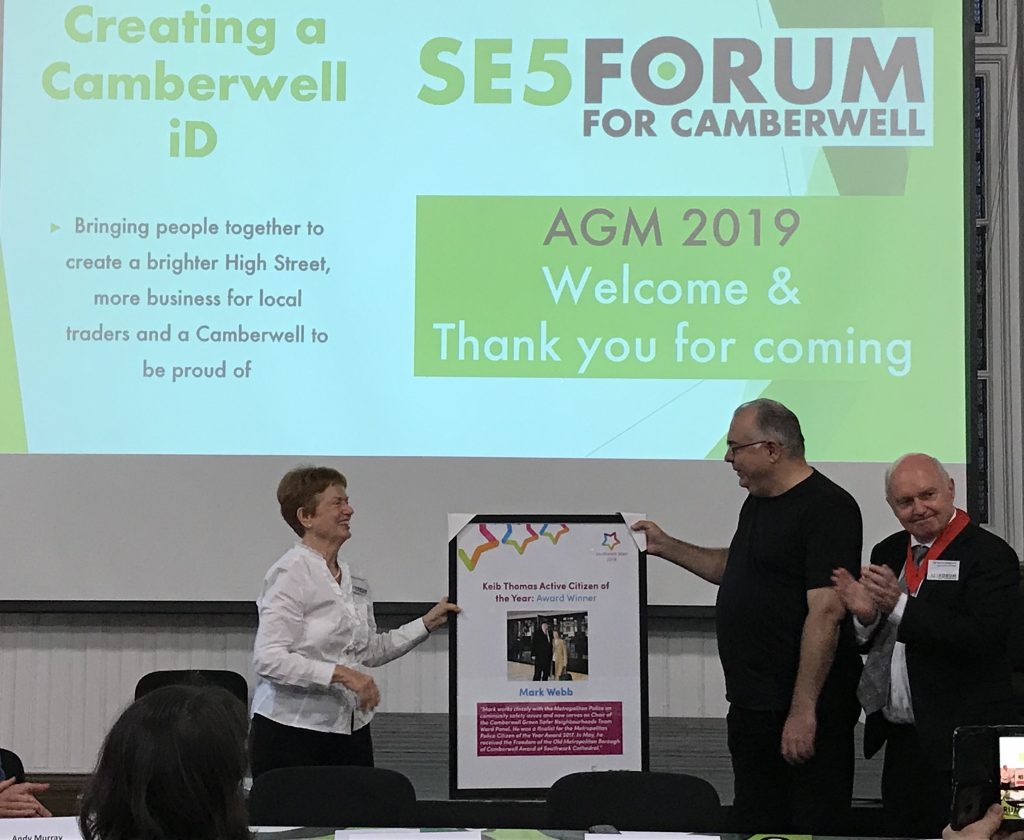 **********************************************************

SE5 Forum for Camberwell would like to invite you to our upcoming AGM 2019 which will present:
• This year's topic – Creating a Camberwell iD.
A panel of speakers & discussion on our ambitious Identity Group projects, including: a new brand design iD for Camberwell, devised using wide consultation with the community; Camberwell Banners (successfully crowdfunded and with Mayor of London backing); murals (one already completed on Camberwell New Road – see below); and a Travel Guide to Camberwell.
All to create a buzz in the area and support the local economy.
The latest developments in our strategic areas of Transport, Business & Identity as per our Strategy & Action Plan 2018-21.
• Q&A and community safety, chair's and finance reports.
The AGM takes place on Wednesday 2 October 6.15-8.30pm at Wilson Road Hall, Camberwell College of Arts, University of the Arts London (UAL), 1 Wilson Road, SE5 8LU.
We really hope you can join us on this occasion. Refreshments, as always, will be provided.